I was at an open mic event in Shipley hosted by poet and publisher Mike Farren where Martyn Bedford was reading- and bumped into poet/publisher Mark Connors who was behind the 100 000 poets for change 2017 project in which I had a poem, inspired by the millions who died in WW1 – The Poppy Parade on page 30.
I received a pdf of the book but didn't know where it could be accessed online – but I've found the link at
https://www.artvilla.com/100-thousand-poets-for-change100tpc-leeds-2017-free-online-anthology/
You can click on the images of the book and flick through the pages- blown up.
Mark says "We have included poems by generous West Yorkshire artists who wanted to contribute to our cause by responding to our invitation with poems on: Revolution, War, Streets, Business, Nations, Equality, Politicians, Conquest, Racism, Love, Europe, Nature, Death, Life, The World, The Good, the Great, the Evil. The Human and beyond."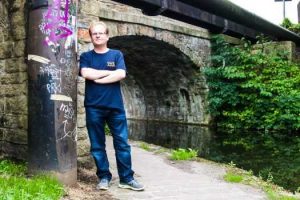 Martyn Bedford's latest short story collection,
is witty, touching and dark in tone. He read excerpts from a trio of his stories including one, very funny one, based on the urban myth that the Beckhams (Victoria and David) had tea at Betty's in Ilkley just before the Tour de France launched in Yorkshire.